"It's my happy place when in Saskatoon 😊🥃"
Robert Veren
"Worth the drive... so much more then you would think. Bringing home things I didn't know existed!"
Troy Richards
"First time there yesterday, and it won't be my last. Can't wait to share the spoils of our visit with our friends back home. Great tour (and tour guide), great service and a fantastic product!!"
Cheryl Pain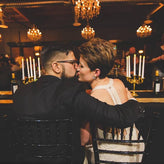 "Best wedding venue in Saskatoon! Thanks to the LB team for hosting a fabulous party for our family and friends. The cocktails were unreal and our guests raved about the look of the venue and the atmosphere. Thanks for making our day extra special and stress free!"
Kaitlin Amber
"Great atmosphere, spirits were excellent, didn't get the guys name that did our tasting but he was awesome, very knowledgeable about the company and very personable. Daisy was great too."
Scott Stefanowich
"LB Distillers stepped up and figured out how to use their facilities to help during the Corona pandemic. I will definitely make a point of telling people to support this integral local business."
Stuart Michael Cuthbertson
For the Whisky Lover
Join the Lucky Bastard Whisky List and be the first to know about new small-batch whisky releases.
Sign Up Now
Be Our Guest. Experience the Spirit of the Distillery
The Event Room at Lucky Bastard Distillers is 1600 square feet with Prohibition-era style, complemented by rustic and industrial features, as well as a fantastic view of the distillery.
Learn More
See Where the Magic Happens
Hop on a free public distillery tour and discover firsthand how our amazing staff handcrafts our award-winning spirits.
Learn More
Lucky Bastard Distillers
814 - 47th Street East
Saskatoon, SK S7K 0X4
306-979-7280
Hours: 
Monday to Saturday, 12pm - 6pm
Closed Sundays & Stat Holidays
Visit Us
Our gift shop has everything for the liquor-lover. Stop by today and browse our selection of spirits, liqueurs and other amazing products.